Iranian carmakers manufactured 682,182 vehicles in the first nine months of the current Iranian calendar year (March 21- December 21).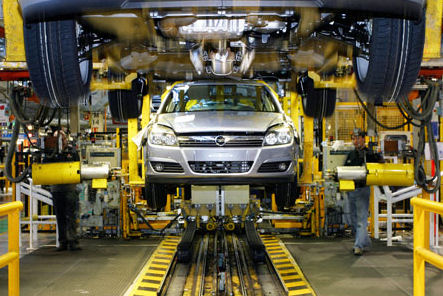 The country produced 78,708 vehicles in the Iranian ninth month of Azar (November 22-Decemebr 21), Tehran Times reported on Sunday.
The carmakers manufactured 1.13 million vehicles in the past Iranian calendar year, which ended on March 20, 2015, showing 53 percent growth compared to its preceding year.
The automobile industry, the biggest non-oil sector of the Iranian economy, constituting around 10 percent of gross domestic product (GDP), boomed over the decade ending in 2011 due to government support and the dearth of international competitors in the domestic market.
Latest data shows that Iran ranks 18th on the list of the world's top auto manufacturers.
The 2014 production statistics by the International Organization of Motor Vehicle Manufacturers (OICA) indicate Iran's auto production increased by 46.7 percent in the 12-month period.
The figures show Iranian automakers produced 1,090,846 cars and commercial vehicles in 2014.
Global automakers are in a race for new business in Iran following the signing of a nuclear accord between Iran and world powers on July 14, 2015, which will end economic sanctions against Iran in exchange for restrictions on its nuclear program.
In his visit to Iran in November 2015, Italian Economic Development minister Federica Guidi said his country is keen on investing in Iran's car industry.
Japan also seeks joint car manufacturing in Iran, according to Japan External Trade Organization (JETRO) Chairman Hiroyuki Ishige who visited the country in October 2015.